WOODPECKER LODGE – ABOUT US
The Team
<![if !vml]>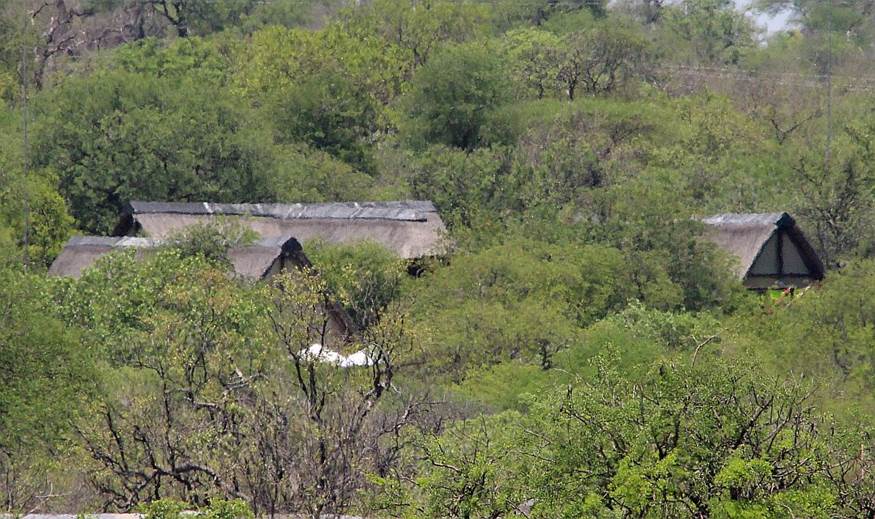 <![endif]>
Woodpecker Lodge is owned and managed by Vivien Johnson assisted by her husband Colin. We have a deep appreciation for the fauna and flora of Africa – we would love to share some of our world with you!
We are strictly a Bed & Breakfast concern.
NO self-catering facilities to prepare meals and/or braai are available for guests.
We are not a self-catering unit.
Consumption of "Take-Aways" is permitted on our verandah.
The Lodge
Woodpecker Lodge is situated within the Hoedspruit Wildlife Estate. This estate is a 680ha Wildlife estate situated in the small town of Hoedspruit, Limpopo. Hoedspruit Wildlife Estate was recently listed to be within the Top 20 Eco-Estates in South Africa.
We provide four (4) double rooms so maximum capacity is up to 8 guests providing for a quiet, restful getaway. Visit our Accommodation Page for specific room detail.
Woodpecker Lodge is also conveniently situated near the Main Access Gate of the Estate (700m) so getting to and from town is very easy.
Please note we are strictly a "Bed & Breakfast" concern - no self-catering/cooking/braais/fires/use of kitchen permitted.
<![if !vml]>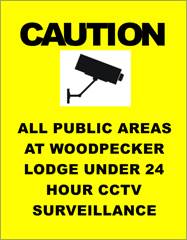 <![endif]>
Woodpecker Lodge is set amongst large bushveld trees with views of the bush, the Drakensberg Mountains and is near to one of the dams on the estate. Woodpecker Lodge boasts a shady courtyard area, a main verandah where one can sit and view the bush, an elevated viewing deck and a pool area where one can relax and cool off on those hot days. The thatched roof gives it that real "bushveld' feel.
The estate has a wilderness area as well as a Game drive route, where much of the plains game can be seen. Although there are game routes and areas for the plains game on the estate, the game does not distinguish between the various areas and roams freely throughout the estate and residences.
Security
The estate is secure with electric fencing, 24 hour access control and security guards.
All homeowners have access permits on their vehicles which allow them access to the estate, while visitors and guests need permission to enter the estate. Temporary access will be arranged by us for visitors that are staying overnight.
<![if !vml]>
<![endif]>
The shared public areas at Woodpecker Lodge have CCTV surveillance.
House Rules
We are strictly a Bed & Breakfast facility. No self-catering/use of kitchen/braai permitted on premises at all. Take-aways permitted.
No pets allowed.
No smoking permitted in rooms.
NO HUBBLIES are allowed on the property
No parties or events.
No loud music. This is a nature reserve therefore no noise is allowed.
No feeding of the wild animals is allowed.
No DRONES are allowed under any circumstances.
Maximum of two people per room. (Double Booking – 2 Guests Sharing)
No additional guests permitted if a single person booking is made for the room. (Single Booking)
Should the tour group arrive with more guests than the reservation made, the entire booking will lapse with immediate effect and the deposit forfeited.
Quiet times from 22h00 to 06h30
Breakfast is served daily from 07:00 until 08:30 after which the kitchen is closed.
Check-in: 2pm - 6pm
Check-out: by 10am
Please observe the speed limits on the Estate:
40km/h on tar roads
20km/h on sand/gravel roads
This for everyone's safety including animals.
The speed limits are for everyone's safety - including our animals.
COVID-19 IMPLICATIONS
Due to Government Regulations, the following points are applicable:
Strict safety protocols need to be adhered to while on your journey and during your stay at Woodpecker Lodge.
Do not travel if feeling unwell or have a high temperature – you will be turned away.
Your temperature will be taken upon arrival at Woodpecker Lodge and at Breakfast for each subsequent day of your stay.
A comprehensive Check-In Form needs to be completed in full by each guest upon arrival.
A mask needs to be worn in the Main Lodge area; social distancing is enforced at all times in public/shared spaces.
Hands need to be sanitized at Main Lodge Door every time a guest enters the building.
Woodpecker Lodge will adhere to all travel protocols set.
<![if !vml]>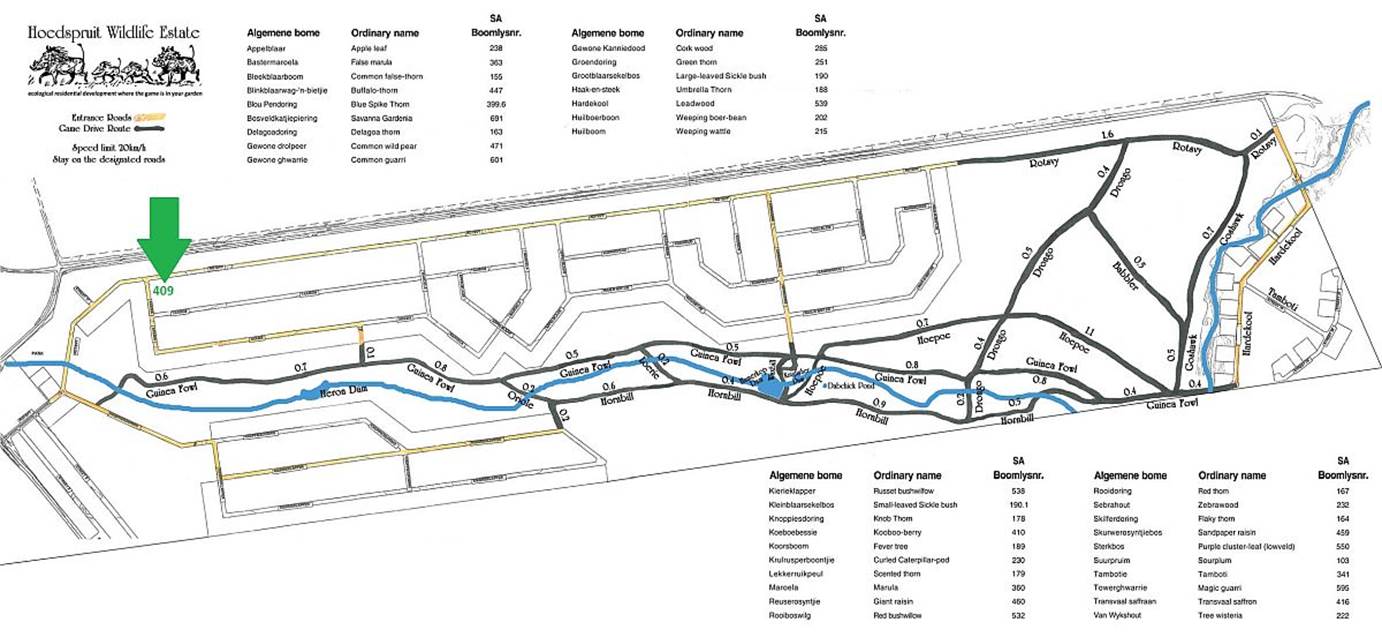 <![endif]>
Infrastructure
The roads are tarred and named after the Lowvelds' iconic trees. The estate is laid out with two developmental areas separated by a large wilderness area. However game moves across the whole estate and does not distinguish between development areas and game areas.
Water is supplied from the Hoedspruit Municipality and electricity from Eskom which has been laid below the ground for improved aesthetics.
The estate is well supplied with plains game such as giraffe, zebra, wildebeest, kudu, nyala, impala, duiker, waterbuck and warthog. Smaller animals and birds are also abundant. The estate is dissected by the seasonal Ulanetsi River (a tributary of the Olifants River) and has 2 dams.
Although the estate is situated just outside the small town of Hoedspruit, the town offers all the amenities that afford a comfortable life in the bush, including Pick 'n Pay, Spar, banks and restaurants.
Malaria Zone
Please be advised that Hoedspruit and its surrounding areas fall within the Malaria Zone. We advise all visitors adhere to a medical doctor's instructions, especially in the summer months.
Our rooms do have an electric mosquito repellent device and the two bedside windows in each room are insect screened.
Map of Estate
<![if !vml]>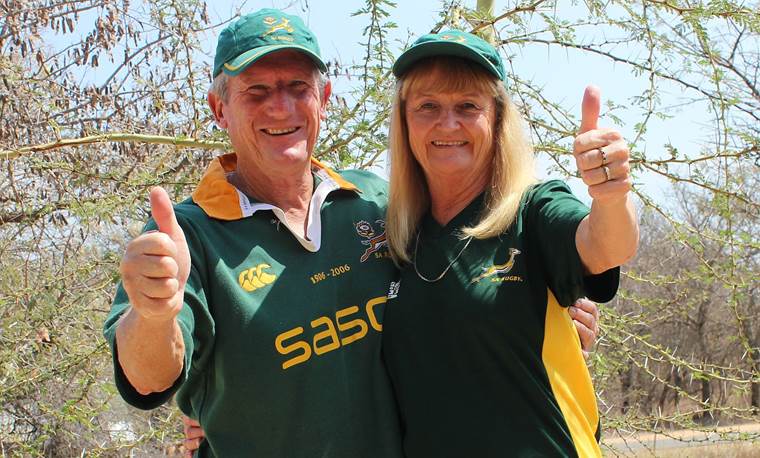 <![endif]>
About Hoedspruit
Hoedspruit is a small town situated in the Lowveld in Limpopo Province, South Africa. Hoedspruit was given its name by Dawid Johannes Joubert who in 1844 after a cloud burst on Mariepskop causing the Zandspruit River to flash flood, lost his hat in the river. Hats were a valuable resource and this was a memorable event, as in the River that stole his hat - Hoedspruit.
Registering his farm in 1848 was the official beginning of Hoedspruit. In 1850 the farms of Jonkmanspruit, Welverdiend (meaning "well deserved") and Driehoek (meaning Three Corners), came into being and the names are still in existence today. ln 1910 the Selati Railway Line was built between Komatipoort and Tzaneen, and although originally built for transporting goods, passengers started traveling and 5 stations were built along the line, Hoedspruit being one. The town started developing around the station.
The town is situated in the Kruger to Canyon UNESO registered Biosphere. The town boasts magnificent views of the Drakensberg Mountains and is located amongst game farms, wildlife estates and reserves. Hoedspruit is popular as a tourist destination and has become the place of choice with regards to people wanting to simplify their lives and live closer to nature.
The town has seen tremendous growth in the last ten years with many new shops, restaurants and wildlife estates. Shops in the town include Spar, Pick 'n Pay, The Crazy Store, Mr. Price, Oasis, two pharmacies and others. There are a number of restaurants in and around town, some rustic with others more up-market.
A unique feature of the town is the option to live in a wildlife estate. There are a number of these estates which offer varying degrees of bush living. A wildlife Estate offers a unique way of living. Houses are set amongst the bush and trees on stands that are between 5000 and 10000 square metres in size. Plains game such as Impala, Warthog, Zebra, Giraffe and Kudu, wander freely on the estates which allows for fantastic interactions. Most of the estates don't have any Big 5 game which makes it safe to walk or cycle.
Hoedspruit is situated close to a number of interesting wildlife projects like the Moholoholo Rehabilitation Centre and the Hoedspruit Endangered Species Centre. Moholoholo is a wildlife sanctuary that tends to injured animals from Rhinos to Duikers, badgers and everything in between. They also have a vulture restaurant where many vultures are fed. Daily informative tours are provided to educate the public about conservation with an opportunity to get up close to a number of animals. They also have a student program in place to educate learners about conservation and to provide hands on experience and training.
The Hoedspruit Endangered Species Centre also aims to educate and provides tours to the public. They focus on the conservation of rare, vulnerable or endangered species. One of their main focuses is the Cheetah. They focus on research and breeding and offer opportunities for students to work hands on in the centre.
Hoedspruit offers a number of activities such as a boat trip on the Blyde Dam where you can enjoy the birds and game in the area such as crocodiles, Hippos and Fish Eagles, as well as the fantastic scenery such as the tufa waterfall and the three rondawels. Other adventure activities include hot air ballooning, micro light flights, white water rafting and tubing. There are also a number of scenic walking trails in the area which include a walk to a waterfall.
The town also supplies a large number of agricultural crops to retailers in South Africa including mangoes, citrus and sweetcorn.
Hoedspruit is also situated just 40 minutes away from the world renowned Kruger National Park, which makes it an easy option for a day outing.